Founded in 2011, New Albany, Indiana-based alternative blues band Houndmouth was founded by Matt Myers (guitar/vocals), Zak Appleby (bass/vocals), Shane Cody (drums/vocals), and Katie Toupin (keyboards/vocals). The quartet began playing locally and in surrounding areas, building up a cache of self-penned material. As their popularity began to grow, the members of Houndmouth realized that the next logical step was to head into the studio and record the material that they had been working on. In 2012, they released their self-titled EP to great acclaim. In order to build their audience outside their area, the quartet headed to Texas in March 2012 to promote the EP. Their live performance impressed audience member Geoff Travis, the head of Rough Trade Records, who signed the band to his label. There was no looking back for Houndmouth…
The band's debut album, FROM THE HILLS BELOW THE CITY, was released in 2013. The album was embraced by the Americana crowd, and it earned the band press, television appearances (Letterman, Conan, etc.), high profile live shows and music festivals including Lollapalooza, Bonnaroo, the Americana Music Festival, and more. Houndmouth's second album, LITTLE NEON LIMELIGHT, earned them even more kudos and the band headed out on the road to promote the album and the #1 single "Sedona". The album landed in the Top 10 of Billboard's Folk Albus chart and Indie Albums chart. However, Katie Toupin departed Houndmouth in 2016 and the remaining trio signed to Reprise Records. They released the album GOLDEN AGE in 2018 to more acclaim. Over the course of the next three years, Houndmouth left Reprise Records and signed with respected indie label Dualtone Records and began work on their fourth album.
In 2021, the trio finally release their long-awaited fourth album GOOD FOR YOU. While the classic Houndmouth sound is alive and well on the album, there is more emotional depth and intimacy on songs such as "Cool Jam", "Miracle Mile", "Goodbye", and "Good for You". The album was recorded with Brad Cook (Waxahatchee, Hiss Golden Messenger) and mixed by Jon Ashley (The War On Drugs, B.J. Barham), both of whom brought that warm and rustic sound out of the band again. In some ways, this is a return to the band's early sound, yet they sound fresh and invigorated and ready to take on the world. Further GOOD FOR YOU highlights include "Make it To Midnight", "Ride or Die", and the single/video "Las Vegas". In a world that sometimes feels like it is going topsy-turvy, Houndmouth's GOOD FOR YOU is a reassuring audio hug when you need it most.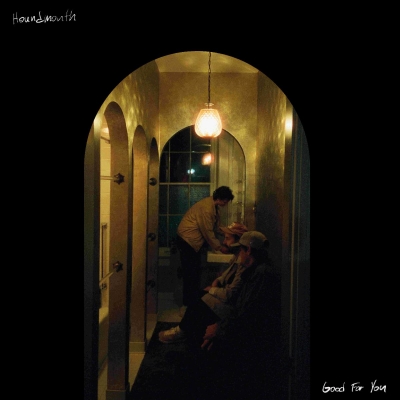 HOUNDMOUTH
GOOD FOR YOU
Available NOW!