Looney tunes, indeed!
The chaps in The Dickies have a wicked sense of humor and The Adicts know how to have fun as well… but The Toy Dolls are the true court jesters of Punk Rock. So, if you are looking for a good time, you can either call one of those phone numbers written on the bathroom wall or you can do the right thing and hustle on down to your local Pop shop and grab THE ALBUMS: 1983-87, a delicious five CD box set that gathers together the first four albums by The Toy Dolls as well as a fifth disc of rarities!
Led by the always excitable Olga (AKA Michael Algar), The Toy Dolls has gone through several line-up changes over the years but they've never lost the spunk 'n' spittle that made them so fun when they released their debut album DIG THAT GROOVE BABY in 1983. While some may have thought of the band's music as a parody or a humorous homage to Punk, there's no doubt that Olga and the boys are true Punk rockers. However, they just chose to take Punk – and everything else for that matter – a lot less seriously than everyone around them. This debut includes classic tracks like "Glenda And The Test Tube Baby," "Dougie Giro," "Up The Garden Path," "Stay Mellow", the title track and "Nellie The Elephant." While some may be put off by the over-the-top goofiness of the band's approach to Punk, their catchy melodies and exceptional musicianship cannot be denied.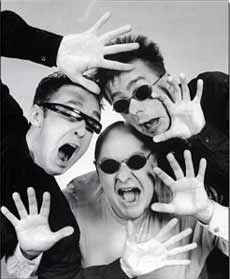 Two years later, the band released A FAR OUT DISC, another hook-filled Punk fiesta. Highlights include "My Girlfriend's Dad's A Vicar," "We're Mad" and so many others.  IDLE GOSSIP was released in 1986 followed a year later by BARE FACED CHEEK. On both albums, Olga leads his crew through some thrilling and entertaining Punk nuggets. No matter what, The Toy Dolls' music was always refreshing, exciting and inspiring. The first album may be their most popular full-length but the band are always reliable when it comes to making great records and each and every one of these albums needs to be experienced.
The fifth disc here is chock full of non-album tracks including 7" version, songs from compilations and so much more. This final CD includes the 'hit' version of "Nellie The Elephant" that received the most airplay over here in the U.S. There's more fun involved including the smile/dance/sweat-inducing "Everybody Jitterbug." Crazy, cool and fun, The Toy Dolls may never get the same respect as bands like The Clash, but they certainly deserve your attention!
Look, if you prefer your Punk political and/or pretentious, go elsewhere.  If you want some hook-filled, shout-along Punk anthems with a sense of humor, then THE TOY DOLLS will satisfy all of your cravings. Ten fold. Captain Oi and Cherry Red have given us yet another set that should occupy a very sacred place in your collection!
(NOTE: The first four discs in this set represent the original albums when first released. They do NOT contain bonus tracks. However, all the bonus tracks from previous CD reissues of these albums are gathered on Disc Five).
Keep on truckin',
Stephen THE CHANCELLOR Schnee