STEPHEN SPAZ SCHNEE: OUT OF MY HEAD is about to be released. How are you feeling about the album and the reaction to it so far?
PAUL COLLINS: I'm very happy with the entire process of making this record. Usually, the making of a record is a lot more difficult – for some reason all the aspects of this recording came together relatively easy. The music, the recording and mixing, the artwork, we were so lucky to get Bob Gruen for the photos, and then, of course, our label Alive did a superb job of bringing it all together! The reaction has been great so far but as always there is a lot to do to promote a record.
SPAZ: On the album, you not only play most of the guitars but you also play the drums. Were you able to easily slip into the role as the full-time drummer for the sessions? Was this the first time you spent so much time behind the drums since your days with The Nerves?
PAUL: Yes, and I was surprised at how fast it went! I basically sat down and played the entire record start to finish! I wasn't sure I could do it but it all came back to me in a flash! I really wanted to play the drums on this record, I had a vision of what it should sound like and we got it.
SPAZ: Apart from playing drums on the album, did you approach the recording of OUT OF MY HEAD differently than your last few albums?
PAUL: Yes. Since I was playing all the guitars, which I had never done before, we just built the songs from the ground up. It was a lot of fun and it was also very creative. I also learned a lot about playing the guitar which was very enjoyable.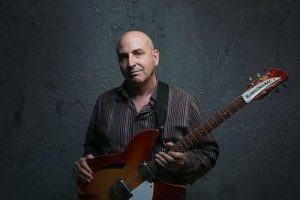 SPAZ: The album is a fantastic collection of songs that build upon an already impressive catalog. After four decades, is songwriting an easy process for you? Do you spend a lot of time putting songs together and pulling them apart again before you feel that it is ready to record?
PAUL: Thank you… that's always nice to hear! Songwriting has always been a challenge ever since the very first song. I was very lucky in the sense that I had two very good teachers – Jack Lee and Peter Case. I learned from the very beginning how important all the mechanics of songwriting are. The melodies, harmonies and the arrangements all play a big part in the end result. Some songs are born full-blown ready to go others require a lot of fine tuning. It's not always easy to tell either. "Go," for example, was very difficult to arrange – in the end I went back to the original song demo which was the best! One minute and thirty seconds!
SPAZ: "Go," "You Belong To Me," "Just Too Bad You're Leaving," and "Kind Of Girl" are just some of the songs that equal anything else you've written, even going back to the debut Beat album. As an artist that is constantly on tour, do you road test the songs before putting them down on tape?
PAUL: Sometimes, but it's usually not a good idea. In fact, you can ruin a song that way. Some songs, like "Just Too Bad You're Leaving" don't really come together until they are recorded. Then, for some reason, they start to sound good when you play them live!
SPAZ: You're known primarily for your upbeat Rock 'n' Roll-infused tracks but OUT OF MY HEAD contains some wonderful tracks – "Emily," "Lost Again," "Beautiful Eyes," and "Tick Tock" – that showcase a gentler side of your musical persona. Is it gratifying to know that you don't have to always stick to any given formula in order to write a great song?
PAUL: At the end of the day, it's all about the song. A good song is a good song and that's the most important thing for me as a songwriter. Rocking out us important and it's important to have good solid up-beat songs but a 'lousy rocker' is just that. I would prefer to have a good solid song.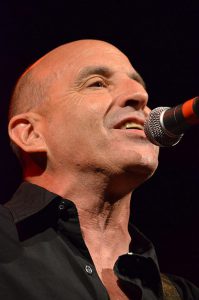 SPAZ: How many songs did you initially write for the album? And do you have a stockpile of songs that you've written over the years that never made it to an album for some reason?
PAUL: This record does feature songs that have been in the song chest for a number of years. The oldest ones are "Just Too Bad You're Leaving" and "You Belong To Me." We were lucky on this recording – all the songs we started out with made it all the way through the recording.
SPAZ: Power Pop is a genre that has many different definitions – it always depends on who you talk to. As one of the true Power Pop pioneers, how would you describe the genre to someone?
PAUL: Short melodic songs about girls, work and traveling! All the best elements of good Rock 'n' Roll. It doesn't seem hard to do until you try to!
SPAZ: You've been creating music for more than four decades. What inspires and drives you as a songwriter and artist?
PAUL: To be the best that I can be, to keep fine tuning the craftsmanship of writing good songs, the ending quest!
SPAZ: What is next for Paul Collins?
PAUL: More shows, more records and hopefully more good songs! It's what I love to do!
SPAZ: What are you currently spinning on your CD/record players?
PAUL: I try to keep abreast with what's happening in the music world by surfing the web either on Facebook or Spotify. It's good to see what the new kids are up to… and it's also good to look back at older artists work.
Thanks to Paul Collins
Special thanks to Steve Dixon and Dave Rayburn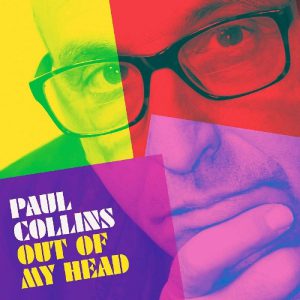 PAUL COLLINS
OUT OF MY HEAD
9.28.18