STEPHEN SPAZ SCHNEE: TIDES OF A TEARDROP is just about to be released. How are you feeling about the album and the reaction to it so far?
ANDREW MARLIN: We have been sitting on a few of these songs for a while and there is always a little anxiety and a little relief in releasing new material. Folks seem to be digging the new tunes so far, so I guess some of the anxiety is giving way to relief!
SPAZ: Your sound has always been the perfect blend of Folk, Traditional Country, Americana, and Roots music. Do you remember the moment when everything came together and you knew which direction the band was headed in?
ANDREW: Thanks for saying that! I don't think we have ever consciously settled on a direction. A lot of our recorded music comes together in the studio as ideas come up. If we have settled into anything it's learning to trust that we will be able to mold that spontaneity into something cohesive throughout an album.
SPAZ: While the songs on TIDES OF A TEARDROP are not 'dark', there are shades of sadness that inhabit each of the songs. What inspired you to compose this set of tracks?
ANDREW: A lot of these songs were written to help me process losing my mother. I tried to not shy away from the sadness and through that was able to find some enlightenment.
SPAZ: There's a warmth in the production and sound of the album that feels both comforting and mysterious. When creating TIDES OF A TEARDROP, is it a struggle to maintain the relaxed and confident sound of the music when faced with the pressures of making the perfect record? Or do you leave those pressures outside the studio and let things unfold organically?
ANDREW: We are fortunate to have an outlet that allows us to make the music we are inspired to make. To make a record that feels relaxed and confident, every step of the process must come from an honest place. Because I've almost always done the production on our albums, it's helped us to not overthink or force anything, and just do what feels natural.
SPAZ: While each of your albums follow a similar musical path, each one of them has subtle differences that set them apart from each other. Did you approach the recording of TIDES OF A TEARDROP differently than your past albums?
ANDREW: The use of space was a subtle shift on this record. It's something we have always incorporated but not quite to this degree. We recorded in a somewhat similar style–mostly live in the studio–but I think the change this time was our cohesiveness as a unit after a year+ of really heavy touring together.
SPAZ: "Golden Embers" is a wonderful introduction to the album. Do you have a choice in picking which songs will be considered 'spotlight tracks' or singles? Or do you prefer to leave that to the label?
ANDREW: Thanks. It is a group effort between the entire team, but that was a really natural choice for everyone I think.
SPAZ: When putting together an album, is it difficult to put together the perfect running order of tracks in order to convey a certain feeling or tell a story?
ANDREW: It is difficult but also such a rewarding venture once you have reached that point.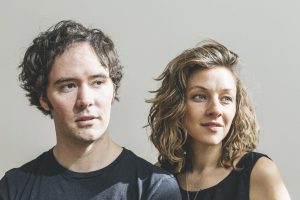 SPAZ: In the '90s and '00s, Chapel Hill was known for being the birthplace of some great Alt-Rock bands. What is the music scene like these days and do you feel kinship with your contemporaries there?
ANDREW: The Triangle (Chapel Hill, Durham, and Raleigh) is a place where great ideas are always flowing and receptive listeners are eager to hear new music. Because of that support, there are always new bands forming and established bands continuing to make great music. We have a lot of friends who we like to play bluegrass and old time with when we're home, and we have many friends locally who are in heavy-touring bands. It's fun and reassuring to have such a well-rounded community of peers and heroes here.
SPAZ: While you may have many musical artists that have influenced you, is there anything outside of music that you draw inspiration from?
ANDREW: Books, politics, conversations, having a kid, movies, traveling, staring pensively out of windows… In order to stay creative, I feel you have to have well-rounded experiences. Within those experiences I try to stay unconsciously receptive to any inspiration that may strike.
SPAZ: Where does the band name Mandolin Orange come from?
ANDREW: An orange mandolin I had when we first start playing. Not a very sexy origin.
SPAZ: What's next for Mandolin Orange?
ANDREW: We have a pretty heavy tour schedule this year. I am really looking forward to how these new songs will progress over the coming months. They seem to take on a stage life apart from the album version.
SPAZ: What is currently spinning on your CD/record players?
ANDREW: A lot of instrumental music for me. I have been constantly listening to Tony Rice's album, DEVLIN. So toneful and melodic.
Thanks to Andrew Marlin
Special thanks to Steve Dixon and Dave Rayburn