Formed in Essen, Germany in 1982, Kreator remains one of the most influential Thrash Metal bands of all time. Founded by Miland 'Mille' Petrozza (vocals/guitar), Jürgen 'Ventor' Reil (drums), and Roberto 'Rob' Fioretti (bass), the group would go through many line-up changes over the decades with Mille and Ventor being the only constants throughout Kreator's history. However, the band's focus on creating – and reinventing – Thrash Metal has never wavered. With the release of their 1985 debut album, ENDLESS PAIN, the band helped to create the Thrash blueprint and they've continued to create some of the most brutal albums of the genre. Alongside Destruction, Sodom, and Tankard, Kreator
While the band had already built up a large following, Kreator came to international prominence with the release of their third album, TERRIBLE CERTAINTY, in 1987. Subsequent albums – EXTREME AGGRESSION (1989) and COMA OF SOULS (1990) – continued their ascension in the Thrash Metal universe. When the Thrash genre saw a commercial decline, so did Kreator. Throughout the 1990s, the band experimented with other Metal styles in order to remain relevant and stay connected with the ever-changing musical landscape. With several line-up changes – including founding member Ventor, who left the group's line-up for two years – Kreator returned to their Thrash roots with their 2001 album VIOLENT REVOLUTION and fans welcome them back with open arms. Although more line-up changes were in store, Kreator has not only rebuilt their Thrash sound over the last 20 years, they've expanded their range and entered the world of Extreme Metal.
Celebrating their 40th Anniversary, Kreator returns in 2022 with HATE ÜBER ALLES. This istheir 15th album overall and their first since the enormously successful GODS OF VIOLENCE (2017) – which reached #1 in Germany and the Top 10 in Austria and the Czech Republic. Their most political album to date, the album's recording sessions were postponed by COVID-19 pandemic. However, the unplanned break seems to have built up the band's manic energy and rage, making HATE ÜBER ALLES a truly powerful album. The group continues to push the limits of Thrash, blending their early sound with more textures and more intensity. Highlights include the album's title track, "Become Immortal, and the singles "Midnight Sun" and "Strongest of the Strong," which features Iranian-born German-Armenian former bodybuilder Patrik Baboumian. HATE ÜBER ALLES is an album that is influenced by the state of the world, and it does not hold back in its brutality. And that is exactly what we were hoping for with a new album from Kreator.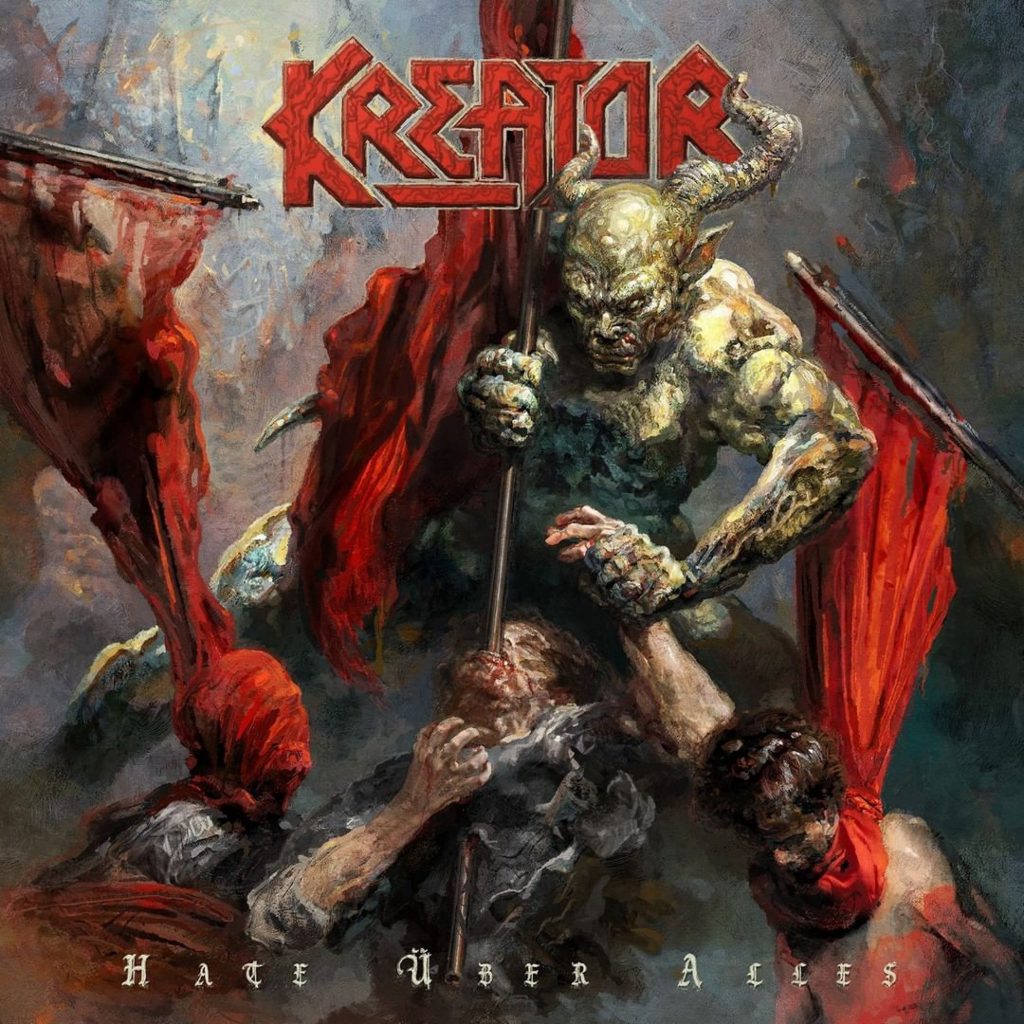 KREATOR
HATE ÜBER ALLES
Available NOW!