Formed in Los Angeles, California in 2009, AWOLNATION was founded by singer, songwriter, and musician Aaron Bruno. His career began when, while still in high school, he formed the Punk band Insurgence. By 2000, he had founded the band Home Town Hero, who released two albums during their four-year career: HOME TOWN HERO (2002) and BITCH CITY (2004). After Home Town Hero dissolved in 2004, Aaron and bandmate Drew Stewart formed the band Under The Influence Of Giants (UTIOG). Between 2004 and 2008, UTIOG released the EP HEAVEN IS FULL (2006) and their self-titled album (2008) and several singles before splitting up. Never one to remain idle for too long, Aaron Bruno set his sights on his next musical project: AWOLNATION.
While AWOLNATION is a band, Aaron Bruno remains the singer, songwriter, and sole constant member since their inception. AWOLNATION made their recorded debut with the release of the BACK FROM EARTH EP in 2010. A year later, their album MEGALITHIC SYMPHONY (2011) was an international hit, charting in the US, Canada, Austria, the UK, and other countries. 2012's RUN was even more successful, climbing into the Top 20 in the US, Austria, and Canada. AWOLNATION's next two albums – HERE COME THE RUNTS (2018) and ANGEL MINERS & THE LIGHTNING RIDERS (2020) – were also hits in several different countries, proving that AWOLNATION were here to stay. With a series of hit albums, EPs, and singles in their back pocket, Aaron and AWOLNATION were up for a new challenge…
2022's MY ECHO, MY SHADOW, MY COVERS is an album that finds Aaron and his bandmates collaborating with guest artists on a series of surprising cover versions. Instead of knocking out faithful retreads of the originals, these songs get a fresh AWOLNATION spin to them and end up sounding both comforting and exciting at the same time. The songs don't lose their original charm as Aaron and Co. take them apart and put them back together with a modern twist. Highlights include Midnight Oil's "Beds Are Burning" (featuring Rise Against's Tim McIlrath), The Alan Parsons Project's "Eye in the Sky" (featuring Beck), Gilbert O'Sullivan's "Alone Again (Naturally)" (featuring Midland), Scorpions' "Wind of Change" (featuring Incubus' Brandon Boyd and Portugal. The Man), Madonna's "Material Girl" (featuring Taylor Hanson), Michael Sembello's "Maniac" (featuring Nothing But Thieves' Conor Mason) and The Cars' "Drive." An uplifting experience from start to finish, MY ECHO, MY SHADOW, MY COVERS is new nostalgia at its finest.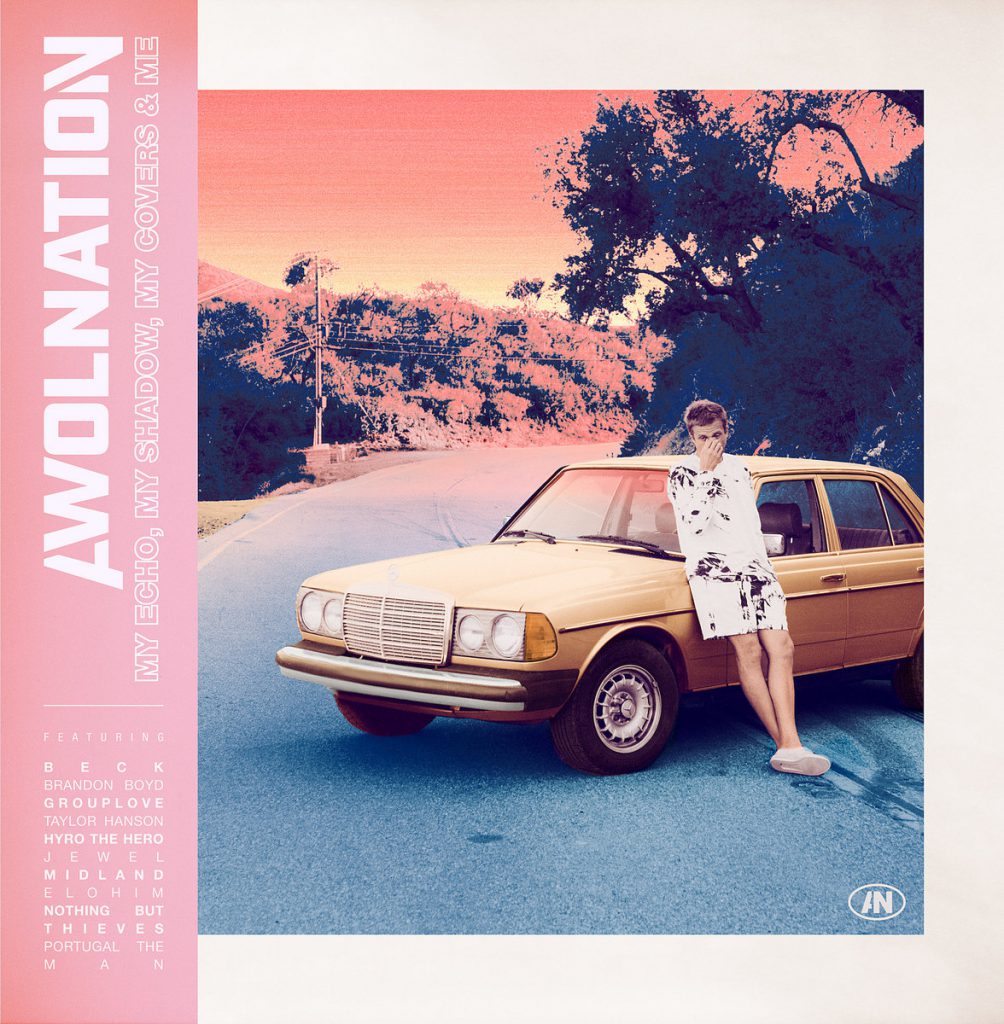 AWOLNATION
MY ECHO, MY SHADOW, MY COVERS
Available NOW!